Welcome to Faversham Music Club
Faversham Music Club was founded in 1946 to promote professional concerts in Faversham and to foster knowledge and appreciation of music through public performance. Our 71st season is our biggest yet with over 20 events running from October to July. We continue our Thursday and First Sunday series of concerts, there's a welcome return of Faversham Voices and Faversham Young Voices and we reach out to younger musicians with a Piano Day and Primary Proms.
From the young virtuoso accordionist Bartosz Glowacki and award-winning guitarist Laura Snowden to the internationally renowned saxophonist John Harle, we hope that there is something to entertain, excite and intrigue. Amidst the ensembles visiting this year we have award-winning brass quintet Total Brass and the Ducasse and Lawson Trios as well as the locally based Cantia Quorum.
Eminent soloist Tom Poster leads a fine array of pianists with the prize-winning, young Russian Samson Tsoy starting the season. The large number of piano concerts are made possible by the arrival earlier this year of the new Blüthner piano which is generously loaned by the Blüthner Foundation. The Club has decided that this instrument will be an important and useful addition to musical life in Faversham and is starting a fundraising campaign to buy the piano. Details of this are found later in the brochure and we hope that our patrons will be tempted to buy a note, a pedal or a leg as we try to raise funds.
Faversham Music Club continues to broaden its music making activities: Faversham Voices and Faversham Young Voices will come together for a new project celebrating this year's Shakespeare anniversary called The Isle is full of Noises and Primary Proms will once again bring local primary schools to special events in the summer term. Marisa Thornton-Wood from the Royal Academy of Music will hold classes in a whole day for pianists young and old and performers from Queen Elizabeth School will be working with the Lawson Trio.
Our collaboration with the Countess of Munster Trust, which has brought us many young emerging stars, continues and we are looking forward to beginning a partnership with The Worshipful Company of Musicians. We also continue our popular visits to Barbican concerts with coach transport from Faversham.
We know that you will find some interesting events and that you may be tempted to join our new membership scheme  and look forward to welcoming you to one or many of our concerts.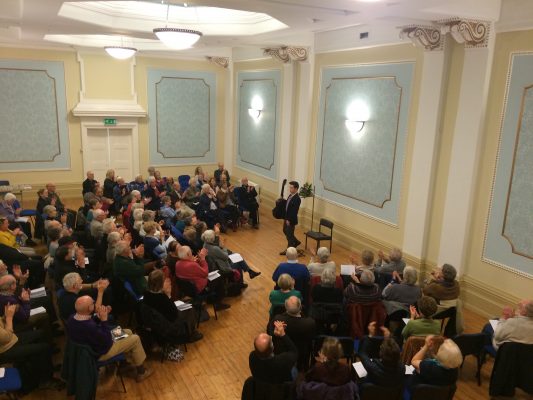 President - Trevor Pinnock
I first discovered the joy of music when I heard a brass band playing on Herne Bay Pier. I have never lost that excitement of the two year old when the music starts and through concerts and recordings around the world I have spent my life sharing this passion and discovering how much music can enrich the lives of people of different backgrounds and all ages.

As a Man of Kent I have a special interest in opening the world of music to our local children and of supporting and developing the work of more advanced young musicians from around the county. For some this will be a special community experience and for others it will be stepping stone towards a future career. For all it will be fun - a very important aspect of life.